As the dust slowly begins to settle on the deadline for POPIA compliance, you and your team might find yourself asking "what next?".
It's absolutely fantastic that you've made sure you're compliant and that moving forward you're within the legal confines, but now that you've put in all the effort to get to this point, how do we kick your email marketing up a notch?
With many businesses having been forced to take a closer look at their email marketing environment over the past few months, we've noticed a growing consensus. And that consensus is that most companies aren't taking full advantage of their email marketing systems.
The days of the monthly email newsletter have long passed and subscribers now expect a lot more effort if you're going to win their engagement.
Luckily we have a solution, auto-freaking-mation.
What is email marketing automation?
Automation is by far the most complex and interesting part of what we do as email marketers. Quite simply put, it's the process of creating email campaigns that are designed to be automatically sent to subscribers based on their actions and activity.
The idea behind automation is to make your subscribers feel like they belong to an audience of one. That very email send was designed with them in mind, and based on their decisions, preferences and activity (or even inactivity!).
This concept might sound somewhat complicated, and it definitely can be, however, the core concept here is easily digested. The best way to understand it would be to look at simple, one step automations and customer journeys.
Let's start with the most common one, a simple welcome journey and automation. When you jump on your favourite brand's website and you sign up to their mailing list, you will generally receive an email, often almost instantaneously, that welcomes you to that mailing list. This is a simple one-step automation.
The welcome campaign was initially designed and a trigger was built in that sends this campaign to anyone new joining your mailing list.
A similar one-step automation is a birthday campaign. When you receive a birthday email from a brand you love, that is a simple one-step automation with the anniversary of a specific date being the trigger.
In both of these scenarios, a couple of hours of work done by an email marketer, have set the stage for some fantastic subscriber and customer nurturing and acquisition.
If you don't believe me, take a look at the fantastic campaign below by Nike. Wouldn't you like to get something like this in your inbox from the brands you support?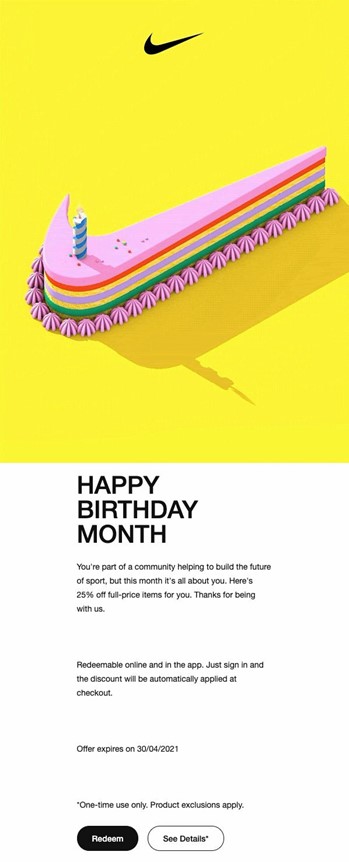 Customer Journeys
You might find yourself thinking, is that all automation does? Not. Even. Close.
Now that we've covered the core concept behind automation and looked at some fairly straightforward examples, let's look at how unique automation and specific customer journeys can have a massive impact on your subscribers and their levels of engagement.
Automation done right can guide subscribers through specific customer journeys designed to achieve certain outcomes. There is a fair amount of strategy and insight required to pull this off, but if you do, it can lead to truly amazing results.
Let's look at the example of the simple one-step welcome journey, but extend this further into a customer journey with multiple branching paths.
Now that we've gotten someone to subscribe to your list, how do we get them to engage with your brand? More often than not, there's a significant drop-off in engagement levels once someone has subscribed to your database, especially if there was an incentive attached to the subscription process. Many subscribers will take the discount code or free resource you provided in exchange for their email address and move on with their lives.
A more complex welcome journey is a great way to stop this from happening. Once someone receives their welcome mail, what if we automated a follow-up a few days later that gives them more info around your service offering? What if following that email, we send another to push them to take action?
Even more interestingly, what if we automate a different campaign to subscribers that didn't open the second campaign, this time taking a different approach? If a subscriber opens a campaign but doesn't click a link, should they be getting the same campaign as someone who has clicked a link, or even someone who hasn't opened the campaign at all?
The answer is no. All of these subscribers should be receiving different campaigns at varying levels of frequency with content that is only applicable to them. Automation gives you the tools to design customer journeys that are always working on increasing engagement while you get to focus on other aspects of your marketing environment.
The below customer journey map by Campaign Monitor gives a great visual representation of a simple multi-step customer journey.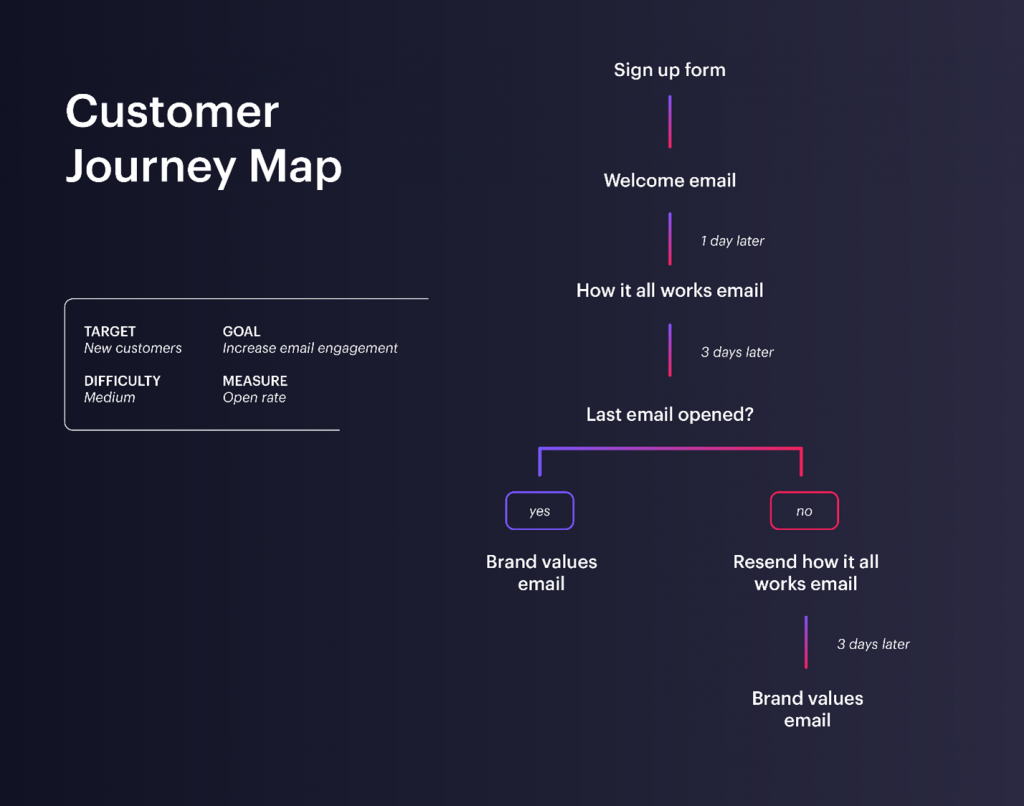 Practical Automation
I think the best way to fully conceptualize what email automation is capable of is to look at a few practical examples.
A welcome journey is fairly common, however, there are several other automation scenarios that can greatly boost subscriber engagement.
Certain journeys are designed around the longevity of the product or service being provided by the brand. Clients in the automotive industry often design customer journeys attributed to the lifecycle of a new vehicle. Imagine you've purchased a new vehicle, and you get an automated campaign that looks like it was sent by the rep that sold you the car, welcoming you to the dealership and offering you a complimentary gift. Now you're on a customer journey through email, receiving campaigns that remind you of dent/scratch protection, or tyre rotation a few months later. A few months after that, a campaign saying that you're probably due for a service. Now consider that this customer journey runs over multiple steps right up until the point a new model is available in a few years, and you can book a test drive and check your trade-in value, all with a simple click.
Still not sure it works? Jellyfish rolled out an award-wining campaign last year for Toyota that followed a similar concept, take a look at one of their campaigns below.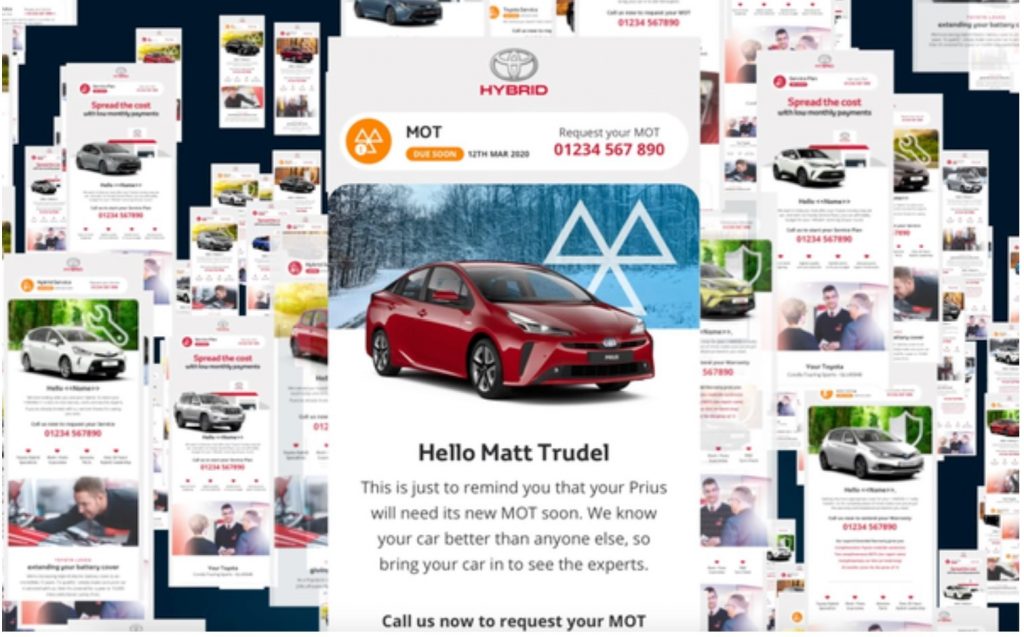 Another great example is the travel and hospitality industry. Instead of a product, like a new vehicle, their customer journeys are based on a service and experience such as a trip.
For many of our clients in this sector, we've designed customer journeys designed to enhance the trip and customer experience. We fire off automated pre-stay communication designed to prepare guests for their trip and arrival. We utilize intra-stay communication, campaigns sent during the trip, to suggest activities and provide useful information. Lastly, we use post-stay communication to get valuable feedback and promote return visits.
And let's not forget transactional emails. Things like purchase confirmations, delivery notifications and abandoned cart reminders all fall under the bracket of transactional email and these are absolute marketing gold mines.
Transactional emails carry the highest open rates because we're all concerned about things relating to our own money and purchases. Since your subscribers are most likely going to open these kinds of emails, why not utilize them to market as well?
Take this opportunity to cross and upsell your products and services.  A well-timed abandoned cart email can push a subscriber over the ledge and into making a purchase. The abandoned cart email below by Think Geek is a fantastic example that speaks to the interest of its audience.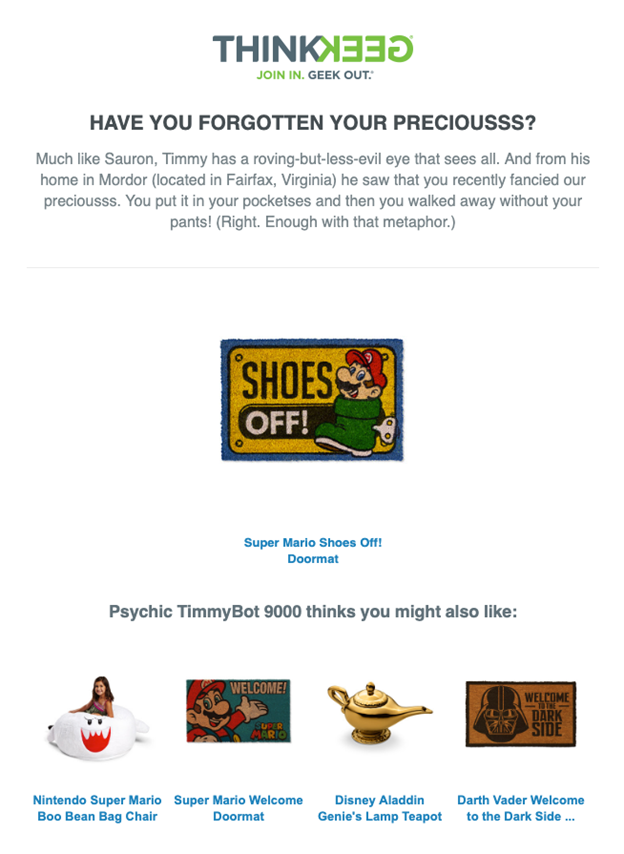 Conclusion
We understand that automation can be complicated, and somewhat daunting to newcomers, but that's where we step in.
As email marketing experts, we can design customer journeys that are suited to the goals of your business. That way, you can focus on what matters, like driving more interest and growing your database.
Remember, behind every successful email marketing environment, is a painstakingly designed customer journey built by the email geeks at TouchBasePro.
Get in touch with us today if you'd like to find out more!